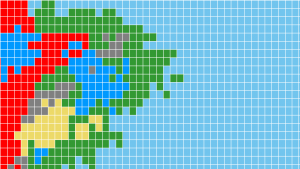 Minifig World Map Project Overview
The objective of this project is to agree a world map of the Minifigure World. Agreement on the final map will be sought by all participating LEGO nations and this approach is deemed key in securing the validity of the map. This Project is part of a wider Minifigure Standardisation Programme scheme funded by the Minifigure Union with the intention of documenting and compiling key data on the Minifigure World and agreeing key standards in multiple areas including measurement, languages, time and naming conventions.
Partipication
This project is on an opt-in basis. Countries do not need to be members of the Minifigure Union to partake. If you have decided to join-in, we would like to thank you for taking the time. We trust that the fruits of the work undertaken will be shared by all in the years ahead.
Submissions
To date, the following countries have successfully submitted draft maps of their territories for inclusion on the Minifig World Map.
The current draft world map can be viewed here: Territory | Geography
Federation of Legopolis
Map submitted on 28 July 2013
Approved on 28 July 2013
View Submission
PBR
Map submitted on 30 July 2013
Approved on 30 July 2013
View Submission
Empire of Legoland
Map submitted on 1 August 2013
Approved on 1 August 2013
View Submission
Eland
Map submitted on 2 August 2013
Approved on 2 August 2013
View Submission
Legana
Map submitted on 4 August 2013
Approved on 4 August 2013
View Submission
Lego Republic
Map submitted on 4 October 2014
Approved on 4 October 2014
View Submission
Want to include your nation on the map? It's easy. These are the steps involved.
Download the IGS Minifig World Map – Your Country map builder. It's helpful to read the READ ME page but in short you will have to inventory your LEGO baseplate collection to determine these 2 key attributes:
1. how many blocks your country will be in size and;
2. the colour profile of the blocks you have available to use (green/grey/tan).
Once you complete your inventory your limitations will be automatically calculated by the map builder. You then proceed to designing your country map adhering to these limitations.
Remember, honesty counts. The grass can always looks greener in a neighbouring state. The project is not intended to encourage a race to have the biggest nation. The project is intended to facilitate country comparisons and to track territorial changes over time. As LEGO baseplate collections may grow (or shrink) in the future, country territories may be expanded or reduced on the map. Additions or reductions of blocks will be accommodated through island/land formation, land reclamation, natural disasters and conquest.
You may allocate some of your baseplate collection to represent another nation (should you have other nations you wish added to the map). The baseplates used to determine the area of any additional nation(s) will not factored into the calculations to determine the area of your primary nation.
Final approval of draft maps for inclusion on the Minifig World Map will be dependent on the provision of detailed photographic-backed evidence of baseplates collections. In the interest of transparency, this evidence will be made public to all participants for all nations.