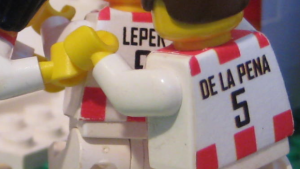 The 32 franchises in Legoland's SuperLeague have seen their collective net cash reserves plummet from £384m to £176m in three years according to the 2017 Report on League Finances issued by the Legoland Football Association.
The enormous drop represents a 54% decrease in the fluid assets of the 16 Serie A and 16 Serie B clubs over the period.
The LFA's report described the changing financial times as challenging for some franchises but put forth a number of reasons for the fall-off in cash reserves. It determined that overall the league as a product was performing well.
According to the report the decline in cash reserves is plateauing and should stabilise for the 2018-29 season at approximately £160m.
Serie B franchises saw the most dramatic decrease in collective cash reserves falling from a height of £218m in 2013 to £44m in 2016. This drop the LFA stated has skewed the overall picture. In the same period Serie A clubs saw their cash reserves drop £33m.
Key reasons for the falls the report found were listed as being:
at the start of the decade a number of franchises reduced their stadium footprint in return for a payment per seat by the LFA. This saw a number of franchises, in particular Serie B sides amass vast cash reserves.
since then, some of these franchises have invested heavily in players and others have been promoted to Serie A, in effect liquidating cash or transferring retained cash reserves from one division to the other.
the reduction in stadium capacities has led to a reduction in annual match-day and season ticket sales for some high performing franchises.
the former Serie B regulations which saw the bottom placed 4-teams relegated to the non-league resulted in an annual hemorrhaging of cash reserves as typically the promoted teams from the non-league had less financial assets.
The SuperLeague's most cash-rich franchise is 9-time and current title holders Legoland FC with just over £25m in the coffers before the start of the 2016-17 season. The franchise also had playing personnel assets totaling £132.3m.
The report did conclude that the Serie B has seen an drain in top players over recent years but that was inevitable.
Top spending franchises in season
1
Legoland United
20.6
2
Medalin
14.75
3
ND Land FC
14.25
4
Legoland FC
13
5
Albern
11.25
6
Celebs
10.9
7
Plasticland Empire
9.55
8
Newcastle
9.1
9
Bygiria FC
9
10
Claremont
8.7
Top selling franchises in season
1
Loyal Davidium
18.85
2
Lion Lakers
18.25
3
Medalin
16
4
Black Mongols
13.25
5
Segasonic Snowfalls
10.15
6
BFB
9.2
7
Magic Wolves
9.1
8
Millionaires
9
9
Chessland City
7.5
10
Port Villa
7