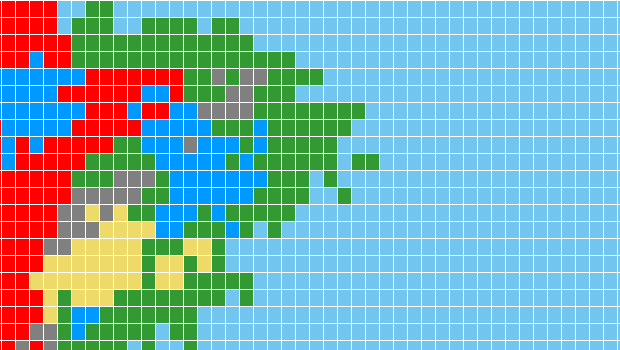 The Imperial Geographic Society has confirmed that it has mapped the Federation of Legopolis and in doing so the Tripartite Axis state is the first country in line for placement on the Minifig World Map.
The Government of the Federation of Legopolis released the following information guide on the Federation's Ancartan region.
Ancarta Overview
The second largest of the Federation's territories, Ancarta fertile south acts a major breadbasket for the entire country while the resource rich mountainous north is home to the islands two major cities, Port St Peter and Imperia.
The island can be divided approximately in half by the Greater Brick Mountains. The northern half is hilly with several prominent peaks especially on the northern peninsula. In part due to its mountains, the north is extremely resource-rich and has developed into the main part of the nation's mining sector. Brick Lake, almost in the dead center of the Greater Brick Mountains, provides fresh water for the majority of the island. It is fed by numerous mountain streams and feeds into the Great Imperia River which flows into the Bay of St. Peter.
The North
The industrious north is home to the majority of the island's recognised population. Port St Peter, located along the Great Imperia River and the Bay of St Peter, is the territorial capital and home to a major port. Imperia, located at the start of the Great Imperia River and next to the Greater Brick Mountains, is where most of the islands industry and takes place. The Great Imperia River is navigable and thus barges are able to haul goods down to Port St Peter. Additionally, many farm goods are barged across Brick Lake where they are shipped from Imperia to Port St Peter.
The South
The southern part of the island is very flat and low lying. Several large lakes can be found and are used for farming purposes. Lacking infrastructure and major cities, the region has remained relatively unchanged over the years. Farming and fishing are the sole sources of income for this part of the island and it is home to the second poorest state in the Federation. Many of the farm labourers are non-figs, a polite term to describe the clone workers who are employed in the fields. They have relatively little rights and are ruled by government appointed ministers, but for the most part they are well off as this part of the island has no figs outside of the state capital, which is, in practicality, a military base.