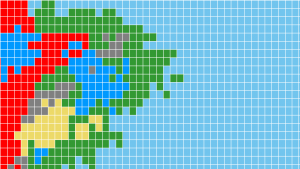 The Minifigure Union has launched its key project for 2013, The Minifigure World Map Project with the aim of accommodating all known minifig countries on a single world map.
A reworking of the current World Map is deemed necessary to reflect geopolitical and geographical changes to Panterra and the continents of Panterra Major and Minor.
The Minifigure Union seeks interest from countries to join in on the project and map submissions based on the IGS Minifig World Map design template from countries who have signed up to the programme. It is envisaged that the development and understanding of the minifigure world and in a wider context, the Planetary System, will be enhanced through the programme.
This project is the first step in a wider Minifigure Standardisation Programme intended to agree accepted standards for a whole range of items, from time, languages, and measurement.
Interested countries will be afforded the chance to provide input for consideration, and in contested areas, for discussion. In this regard, the Project will seek to establish the basis for determining a country's location on the map, neighbouring states, geographical position and relative landmass.
For this purpose, countries who wish to partake in the project will be required to provide accurate information (photo evidence backed) such as (a) number and size of baseplates and (b) minifigure population.
NOTE: Country data will be reviewed periodically.
If you wish to opt-in, you can download the IGS Minifig World Map design template below and submit completed templates to editor@minifigtimes.com