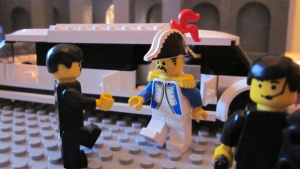 His Imperial Majesty, Emperor David, has publicly renounced the Knight of the Grand Caprican Order "honour" bestowed upon him in 2011 from the Government of the Capricas. His Knight's Ceremonial Sword, provided as part of the glorified boy-scouts medal award ceremony, is purportedly heading for the scrapyard. Ministry of Truth officials wasted no time in announcing that ironically the sword may return to the Capricas in the form of chrome plated bullets lodged in the torsos of fleeing Caprican minifigs.
The prospect of war appears to be drawing ever closer. The Cabinet was convened last night in an emergency meeting to discuss the findings of a confidential intelligence dossier prepared by the Ministry of Peace. It is speculated that the report detailed the Imperial Army's readiness for war and the strength of the Caprican peasant militias.
Reports emerging from across the Empire suggest a decision has already been made. The noise of tank engines being revved up, and repair works underway, are being heard throughout the four corners of the land, in many parts, sounds that have laid dormant for years.